Castle Quilters was founded in 2006 with a membership of eighteen. We now have over forty members and meet in a lovely hall in Weybourne, Farnham on the fourth Monday of each month at 7:15 p.m.

We are a group who promote patchwork and quilting whilst enjoying guest speakers, workshops and learning new techniques.
Showcase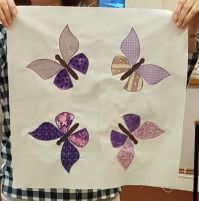 Next Meeting
Face to Face Meetings have been postponed due to the Corona virus outbreak.
We are holding Zoom catch ups with show and tell and the odd quiz once a month, in both the afternoon and evening for our members.
We are preparing a full programme for 2021 in the hope that things will return to normal, but we will include Zoom alternatives for if we need to cancel due to the on going and fluctuating situation.
Forthcoming Events

uk holidays
December

2020

Venue

Time/Details

Mon 14th

Zoom Group Meeting - Christmas Cheer - Don festive hats and earrings and bring your own festive snacks. There may be a quiz too!

Your house - link will be emailed nearer the time.

2:30pm and 7:15pm

Fri 25th

Christmas Day

Sat 26th

Boxing Day

Mon 28th

Bank Holiday in lieu of Boxing Day

January

2021

Venue

Time/Details

Sun 17th

Maltings Quilt Fair - See their website for details. Castle Quilters will have a stand there.

The Maltings Farnham; Farnham

Ticketed and timed event; see their website for details

The above dates may change without warning
Please Note: We are currently reviewing and updating the contents of our pages over the next few months. Whilst we get ourselves shipshape we will always have our next meeting advertised above. Our full year programme and our latest newsletter will be available under the "programme" tab. The newsletter is in .pdf format and clicking on the link will download it for you to read. Regards, Admin at Castle Quilters.