Castle Quilters was founded in 2006 with a membership of eighteen.
We now have over forty members and meet in a lovely hall in Weybourne, Farnham on the fourth Monday of each month at 7.15 p.m.
NEXT MEETING
-----------------------------------------
23rd October
2017
AGM, Speaker and Trader
7.30 - 9:30
Tea and Coffee from 7:15
Weybourne Village Hall
Weybourne Road, Farnham
Surrey, GU9 9EL
CC:
We are a group who promote patchwork and quilting whilst enjoying guest speakers, workshops and learning new techniques.
May Meeting
We will be making bunting to be hung in the hall at our anniversary tea and then used at the Maltings quilt shows.
The background fabric for each 7" bunting square will be provided. It is bone white in colour. We are asking each of you to bring to the May meeting, along with your usual sewing apparatus, fabrics and haberdashery such as lace, ric-rac, buttons & embroidery thread you can use to make the bunting. You might like to bring a template or design you have drawn in advance. We will be making bunting to be hung in the hall at our anniversary tea and then used at the Maltings quilt shows.
The theme is FLOWERS

Farnham Maltings
A big thank you to Jan who planned and managed our stand at The Maltings Quilt Show this month. Thank you also to the ladies who helped set-up and take down the stand, and to all those who contributed quilts and other hand-made objects to be displayed. It was a very attractive and interesting exhibition of all our work and would not have been possible without our members and those who worked behind the scenes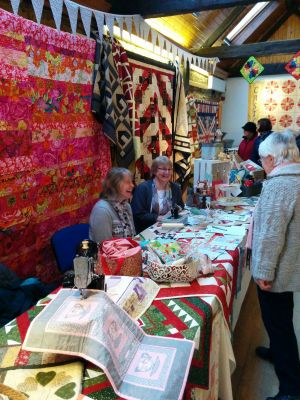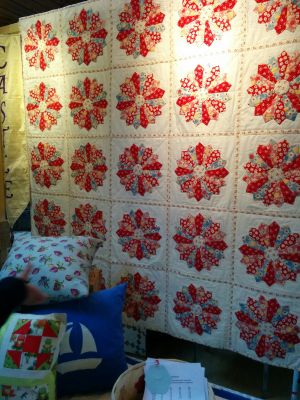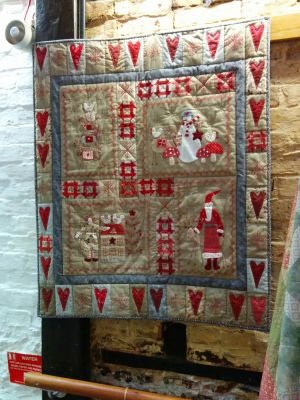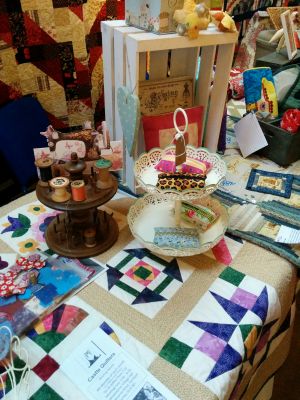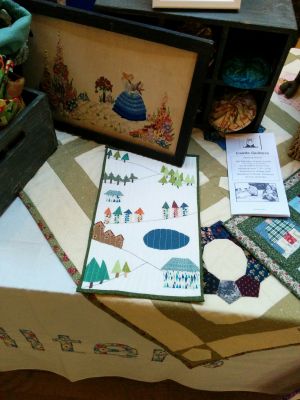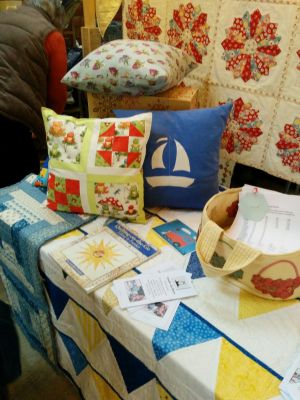 For more pictures please look in the gallery.
January meeting
There was plenty of show and tell at our January meeting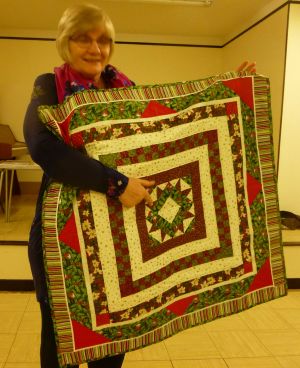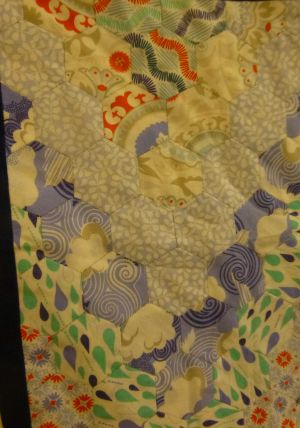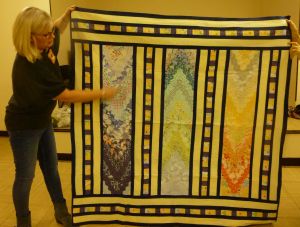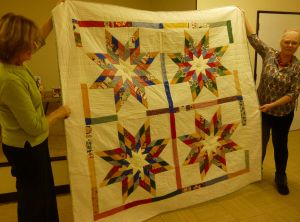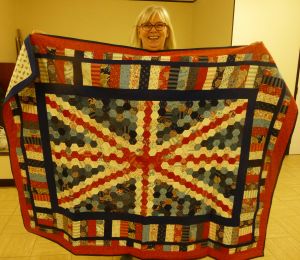 International Quilting Day - 19th March - new venue
Due to a prior booking IQD will not be at Weybourne Village Hall. The new venue for IQD only is Crookham War Memorial Hall, Sandy Lane, Fleet
GU52 8LD.

November meeting
At the November meeting we made 10 minute table runners. This was a really quick and fun thing to make.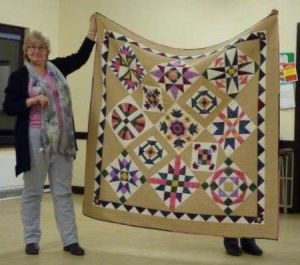 Below are some pictures of the group quilt in progress.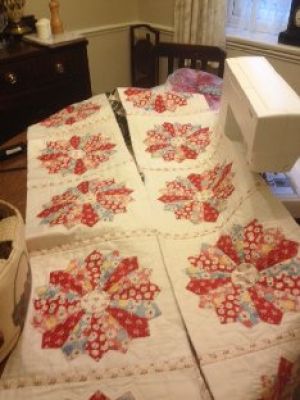 Here's the group quilt ready for Maltings.We still need helpers for the stand on the day. Please click here for more details.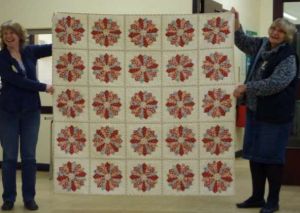 September Meeting - Sewing evening and Macmillan fundraising
September's meeting was a sewing evening. It was a productive evening and £90 was raised for Macmillan Cancer Support.


July Meeting - Canadian Red Cross Quilts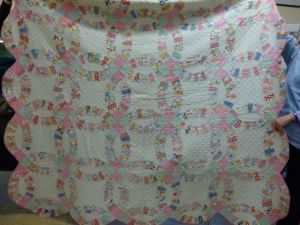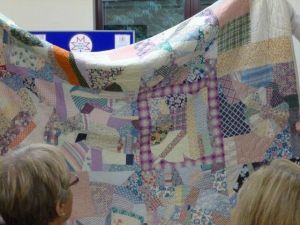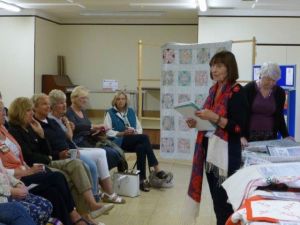 In July we had a very interesting talk given by Anna Mansi from the Canadian Red Cross Research Group. She showed us many old quilts that were made in Canada (and some from the USA) that were sent over to the UK during World War II, to help families who had been bombed out of their homes or just as a good-will gift to those in war torn Britain. Some are now very worn and tatty but they are all beautiful and were obviously made with loving care by many friends across the Atlantic. Anna related many touching stories of people who had owned the quilts. The quilts all had a label attached saying they were from the Canadian Red Cross but the labels are quite small and hard to find, and some have been removed. Hundreds of thousands of quilts were made and shipped over to be distributed to children, families and the troops. Many are now lost but if you know of such a quilt the Research Group would love to hear from you.
The aims of the group are
To rescue as many of these old quilts as they can
To raise the profile of these quilts both within the quilting world and with the general public
To identify quilts in private hands or museums and document them
To collect stories of the makers and the recipients.
Anna can be contacted at annamansi@me.com or a.mansi2@ntlworld.com and on 01689 857067.
There are more pictures in the gallery.
June Meeting - Own sewing evening

For the June meeting please bring your own sewing but it is also the launch of our Quilt-as you-Go quilt for display at the Maltings 2016.
There will be kits available for you to make a block and be part of this quilt. So why not start yours at Club the same evening?
You'll need a dark pencil for drawing around the templates onto the fabric, cutting out tools and your sewing machine.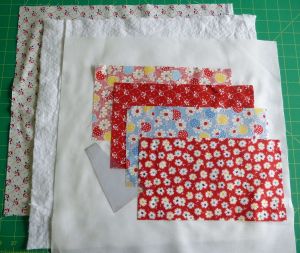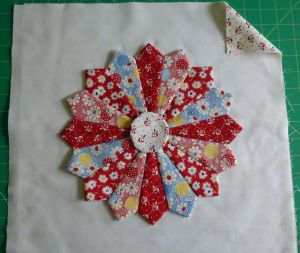 May Meeting - Thread pots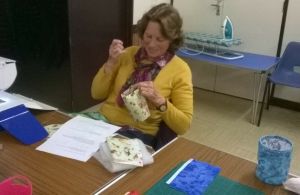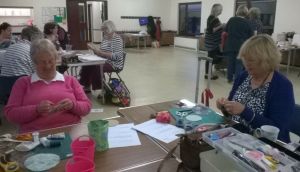 Natalie showed off the quilt she made using the build she won at IQD in March.
February Meeting - Miniature Quilt Talk - Julia Gahaghan


Farnham Maltings Fabric Sale - January 2015
The Castle Quilters stand was pictured in the Herald. To see the picture click here.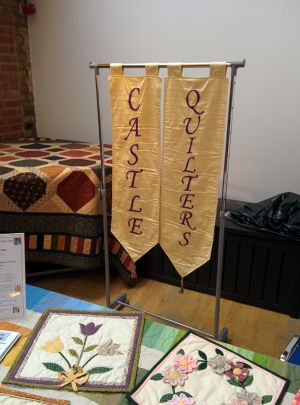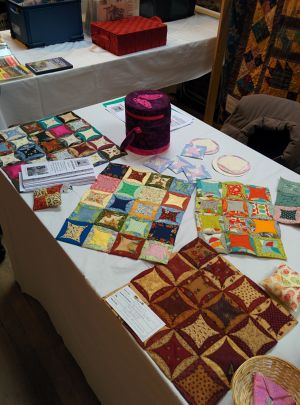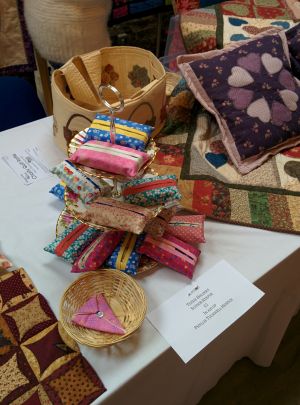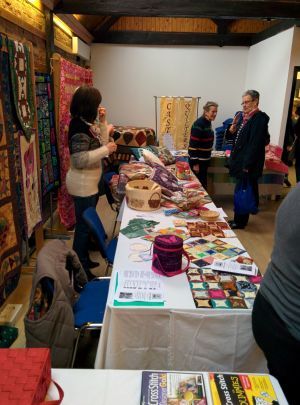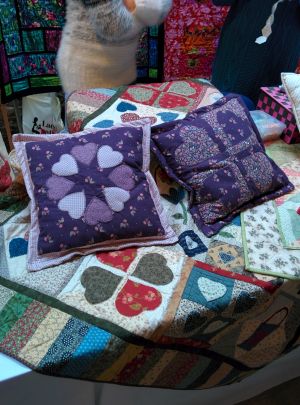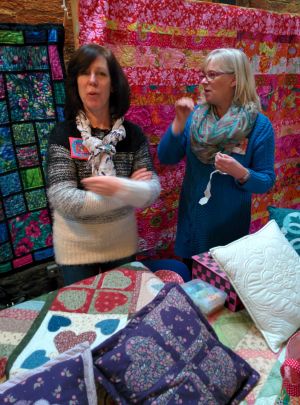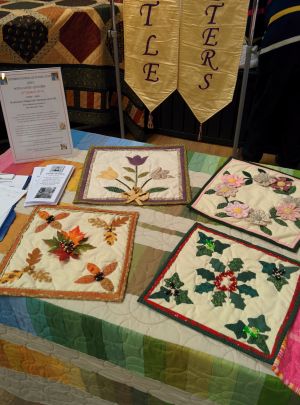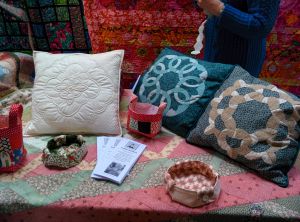 December 2014 - Christmas meeting
It was a busy Christmas meeting, with yummy nibbles - many thanks to the committee! We made Christmas decorations and had a quiz.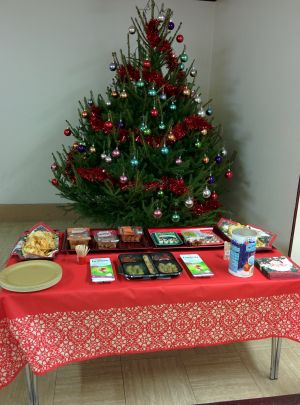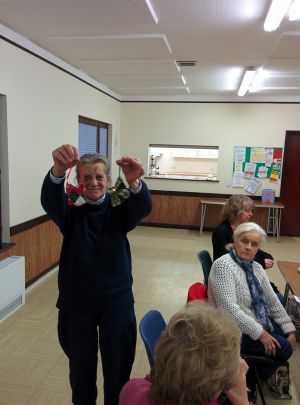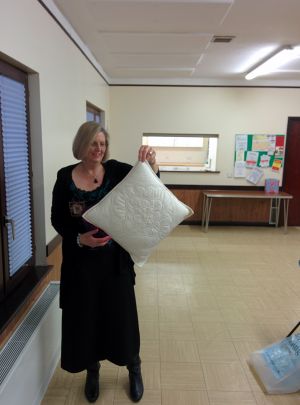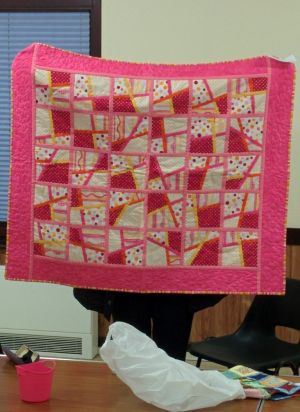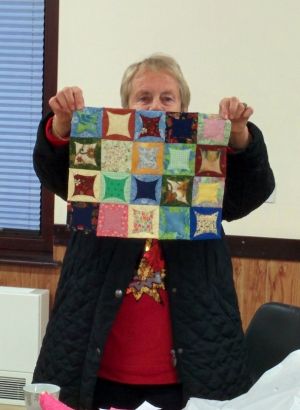 November 2014 - Show and Tell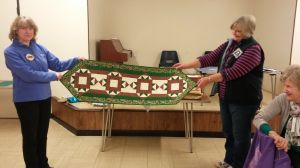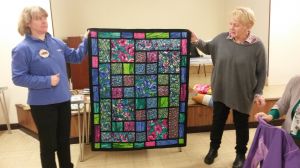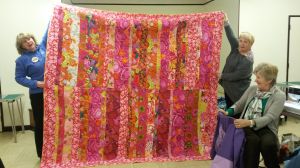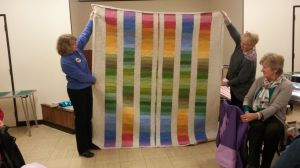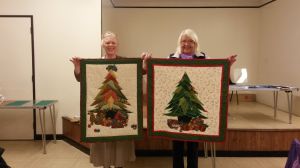 Dear Jane Quilt - October 2014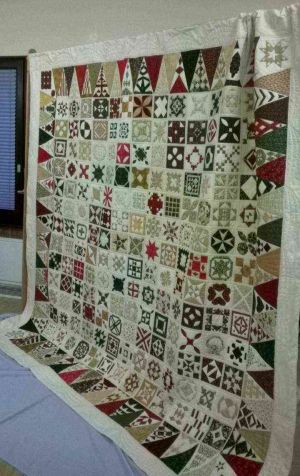 At our October meeting Dot shared her amazing Dear Jane quilt.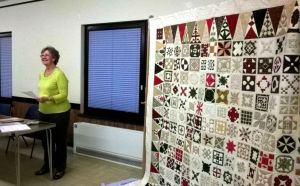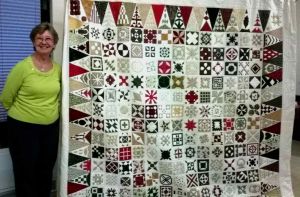 There was also some great Show and Tell.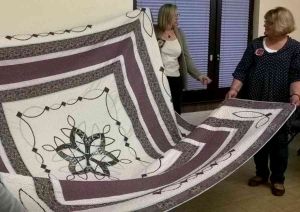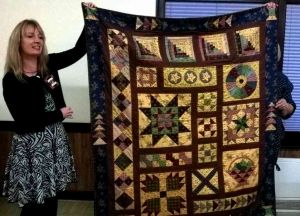 and we had a visiting trader - Sew Dotty.
Scissor Keeper Project - September 2014
September's meeting was very productive. Jane showed the Castle Quilters ladies how to make a scissor keeper.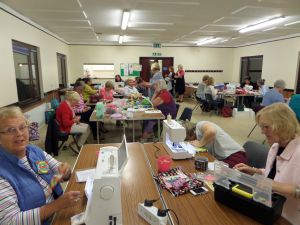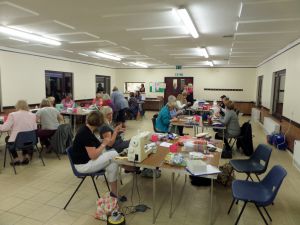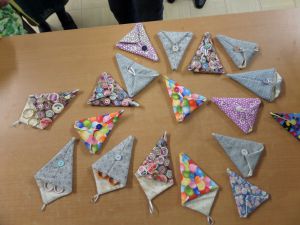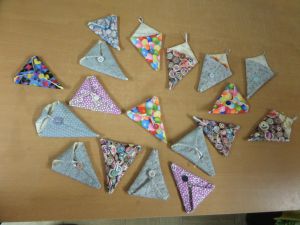 There was some great show and tell too.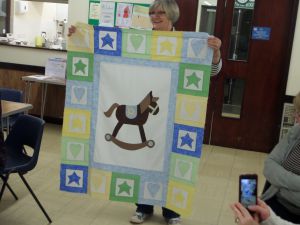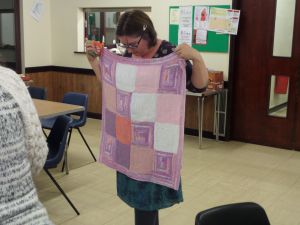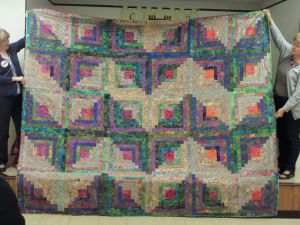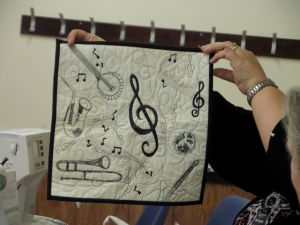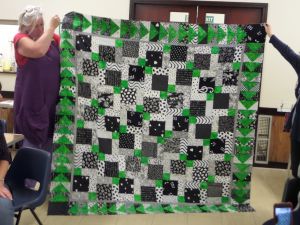 Jo Colwill Workshop - June 2014
On a sunny Sunday Castle Quilter members plus visitors enjoyed a great workshop with Jo Colwill.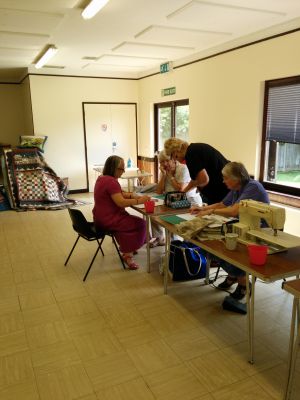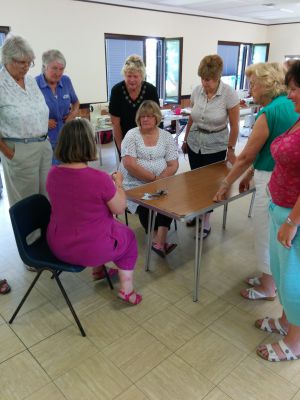 Jo provided 2 possible designs but she encouraged everyone to add their own twist to their quilt.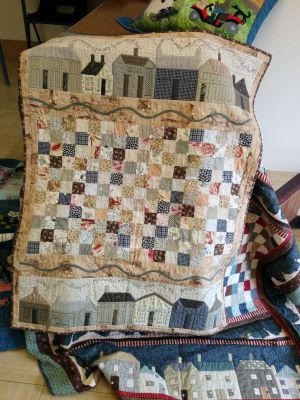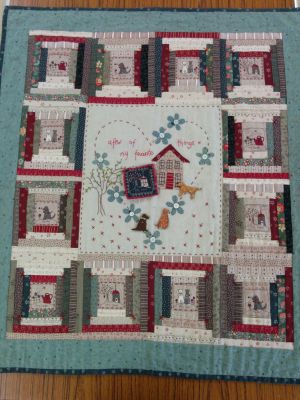 Some ladies followed the Jo's design quite closely, learning her template free applique and embroidery techniques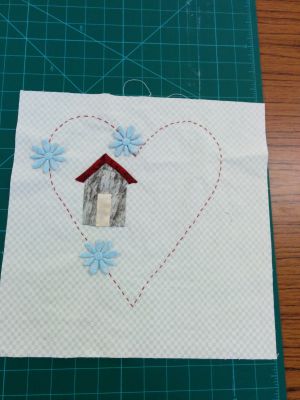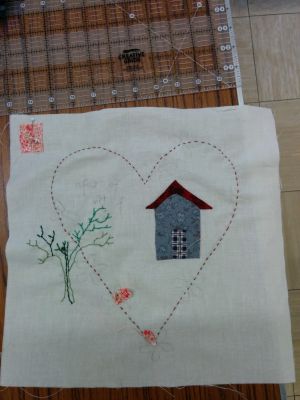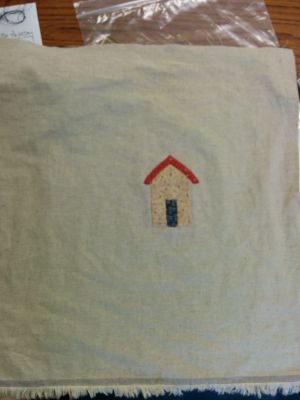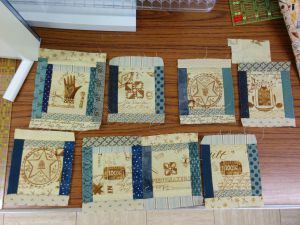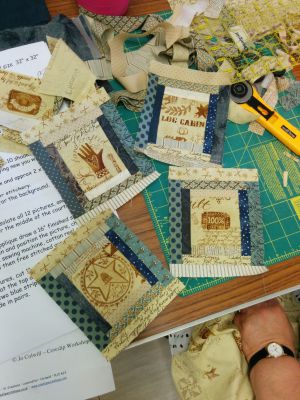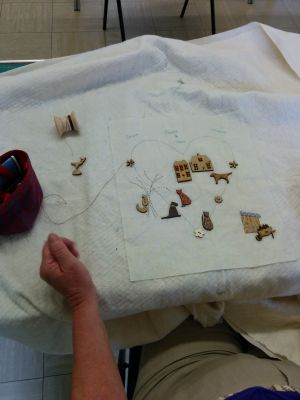 while other ladies took the designs in a new direction and focused on the design of their quilts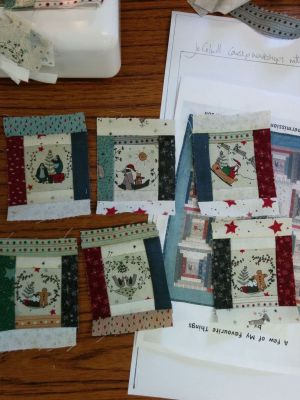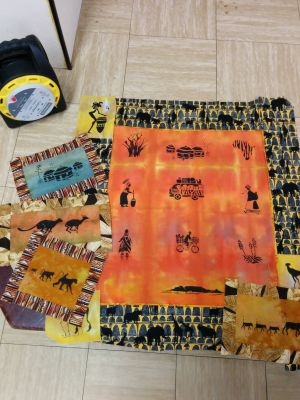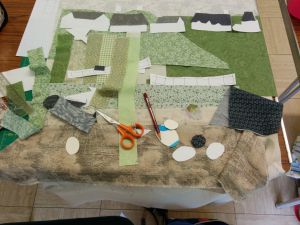 Thanks to Jo for a great workshop, Margaret for the early morning drive, Rosemary for organising the workshop and the ladies who provided the delicious cakes.

May Meeting - Traditional Quilt Group Suitcase Collection
We had a busy a busy May meeting with inspiring quilts from the Traditional Quilt Group Suitcase Collection. The theme of the quilts was
'Building Blocks'. There were many different styles of quilt and we all enjoyed looking at them and getting ideas.

There were some great show and tell. From left to right, Jan amazing quilt was longarm quilted by the Quilt Room and she was very pleased with the results. Elspeth showed her quilted colour scheme - lovely crisp modern colour scheme and great quilting. Gill showed here quilt for Murray - great bright colours.

Jules brought along some fabric she had dyed herself and also some beautiful dark blue fabrics from Japan (the AIZENKOBO Workshop KYOTO). Aizenkobo is an indigo-dyeing workshop that has been in operation for threegenerations. Aizenkobo produces and promotes indigo handicraft work usingthe traditional Japanese method. Its "eggplant" blue is impossible toreproduce with artificial chemical pigments.
You can find more details on their website if you click here

April Meeting - Di Taylor - Me and My Quilts
At the April meeting Di Taylor shared her wonderful quilts with us. Look in the gallery for more pictures.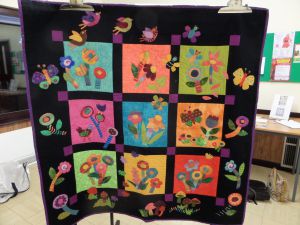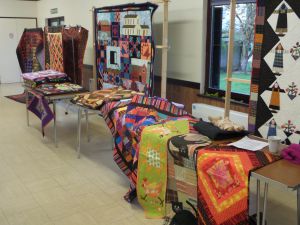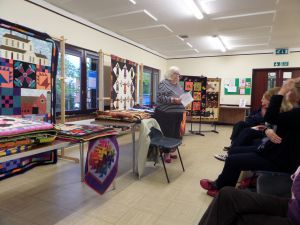 International Quilting Day March 2014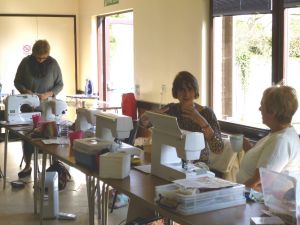 Castle Quilters had a really enjoyable International Quilting Day with 19 ladies present.
These were the blocks made this year. They were divided into 5 lots and won by raffle tickets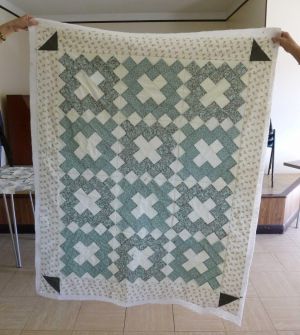 Janet won the blocks last year and showed us her completed quilt top
February Meeting - Valerie Nesbitt
For our February meeting we had a fascinating talk from Valerie Nesbitt of JustHands-on.tv and a tempting trade stand from Creative Quilting.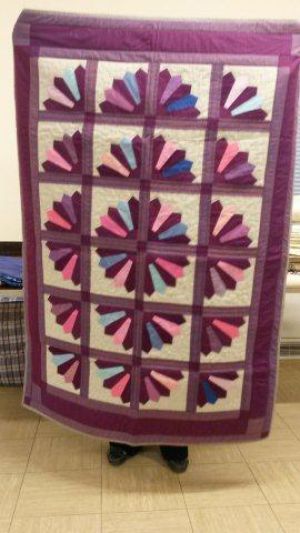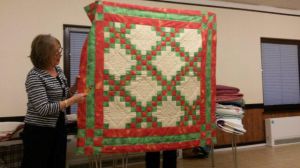 January Meeting - Travel Bags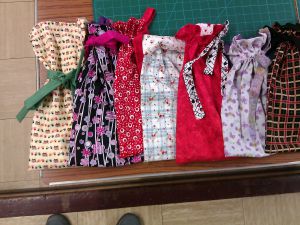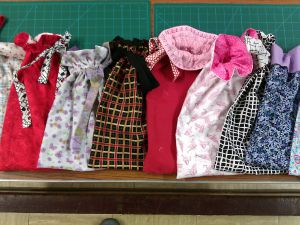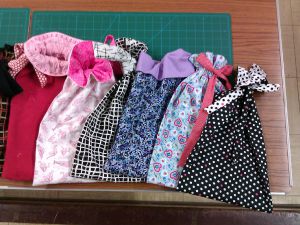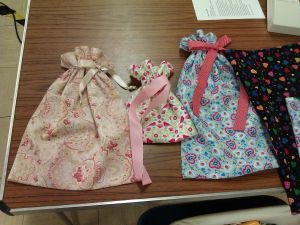 Farnham Maltings Fabric Sale January 2014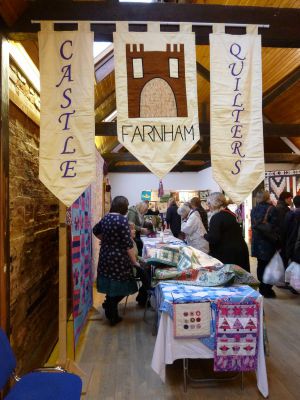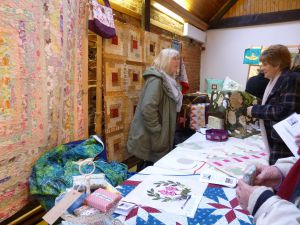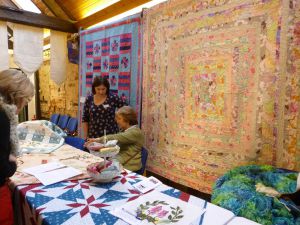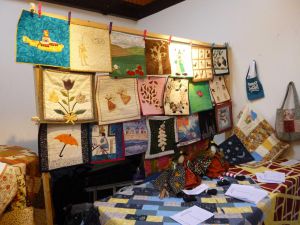 October Meeting
Members brought in their Sew a Row Quilts, Mo demonstrated a block and their were some Show and Tell quilts.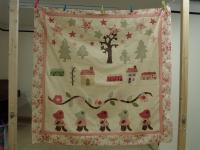 September meeting with Jules
Jules talked about her design inspirations
Worshipful Company of Broderer's Award
Castle Quilters are very proud of member, Liz Macleod who was presented the Worshipful Company of Broderer's Award by Princess Anne at Buckingham Palace in May 2013. Well done Liz!
April Meeting with Shirley Bloomfield
Shirley Bloomfield shared her beautiful needle-turned applique quilts
Look in the gallery for more pictures
Castle Quilters Are Moving!
From our March meeting Castle Quilters will be moving to Weybourne Village Hall, just 2 minutes away from Badshot Lea. For directions to the new venue click here.
Quilts and Roses
Hello ladies
Jan and I after much deliberation have decided to no longer run the Quilts and Roses show. Our Quilting Journeys are taking different paths and we would like to pursue those without having to sacrifice the commitment that running the show requires.We have thoroughly enjoyed the five years that we have had and we still get great feedback from people who have been to see it. We would like to thank you wholeheartedly for your contribution and support of the Quilts and Roses.
Warmest regards.
Jules and Jan
Castle Quilters Yahoo Group
Castle Quilters members, we have a Yahoo group. Click below to join.
Click to join CastleQuilters
February meeting with Jenny Barlow
Look in the gallery for more pictures
January Show and Tell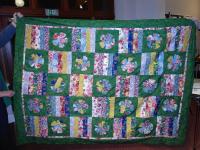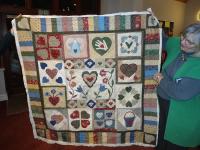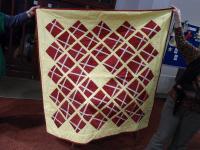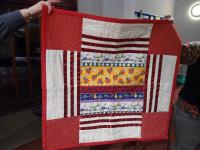 10 Minute Table Runner 2 pieces of coordinating fabric as follows: I piece of fabric measuring 18" x the width of the fabric this is usually about 40-42" 1 piece of fabric measuring 12"" x the width of the fabric this is usually about 40-42" (this piece is the centre of the table runner and should not be directional, the other fabric will be complimenting the centre) 2 medium size buttons to match fabric Matching thread Sewing machine
We will be making bunting to be hung in the hall at our anniversary tea and then used at the Maltings quilt shows. The background fabric for each 7" bunting square will be provided. It is bone white in colour. We are asking each of you to bring to the May meeting, along with your usual sewing apparatus, fabrics and haberdashery such as lace, ric-rac, buttons & embroidery thread you can use to make the bunting. You might like to bring a template or design you have drawn in advance. The theme is FLOWERS